Dr.Rajashree Ajith
Director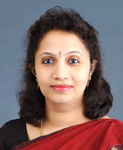 Ph.D (Doctorate of Philosophy in Management)
MBA (Master of Business Administration)
Post Graduate Diploma in Computer Science
Postgraduate Diploma in Human Resource Management and B Tech in Civil Engineering
Dr. Rajashree Ajith took over as Managing Director of KTDFC at the age of 28, thus becoming the youngest Managing Director of a PSU under Government of Kerala.

As the MD of KTDFC, its activities were expanded and new avenues of generating revenue were opened up, with fund mobilization schemes from the public, and granting vehicle loans, home loans, construction loans, personal loans etc to the public. It became a continuously profit making Corporation, consistently paying dividend to the Government. The Corporation was consistently rated as one among the top fifteen best performing Corporations by the Bureau of Public Enterprises of the State Government. It attained "AA" in Credit rating for the Corporation from National credit rating agency. As MD, she implemented the successful BOT project 'TransTowers' with the Government. She also initiated joint venture projects with the state owned public transport system KSRTC for the commercial development of bus terminals across the state. She continued to be the MD for around eleven years till end of 2007.

From 2008 to 14.03.2012, Dr. Rajashree Ajith was the MD of C-apt formerly known as KSAVRC under Higher Education Department. During her period at C-apt, the Centre saw a successful turnaround into a vibrant, financially sound, business oriented, forward looking enterprise with the whole hearted support of all the stake-holders. During the said period, many new programmes and systems were introduced for the efficient functioning of the Centre and welfare of the employees. She was also instrumental in establishing the Centre for Braille Studies at Shangumugham, Thiruvananthapuram, installed Multicolour Sheetfed Offset Printing Machine from M/s. Mitsubishi, Japan, undertook and executed Lottery Ticket Printing under the Security Printing Unit apart from executing confidential printing works. She also initiated the state wide launch of C-apt Multimedia Academy throughout Kerala through over 100 Franchisee Centres. During 2010, she also held the additional charge of Director, Centre for Continuing Education in Kerala (CCEK), Kerala Civil Service Academy and Institute of Fashion Technology Kerala (IFTK).