Dr. B. Rajendran
Principal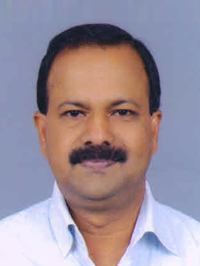 Dr. B. Rajendran has taken over as the Principal of Kerala Institute of Tourism and Travel Studies (KITTS). A Management and financial expert with an exemplary track record and an experience spanning decades, Dr. Rajendran holds a Ph.D in Management from the University of Kerala. He took his M.Com and MBA in Management from University of Kerala. He is having Post Graduate Diplomas in Journalism and Co-operation and he has successfully completed Faculty Development program from IIM –Bangalore
He has been working as the Addl. Director and Associate Professor of Kerala Institute of Co-operative Management (KICMA), owned by State Co-operative Union-Kerala, a statutory body established by Govt. of Kerala, since 2009. He was also a faculty member of the Institute Of Journalism, Press Club, Thiruvananthapuram and Department of Business Administration, College of Engineering Thiruvananthapuram.(CET)
With more than 20 years of industrial and professional experience in Finance, Accounts, Teaching, Research, Consultancy, Tourism Administration and Management, Dr. Rajendran is a well known figure in the media circles as well.. A popular columnist in mass media, he has published over 100 articles and has penned a few books. He presented papers in international and national seminars.
During his tenure as Managing Director of Surplus Capital Market Pvt. Ltd, he received the 'Best Financial Advisor- South India' award instituted by CNBC –TV-18, a leading business channel in association with M/S. Optimix Asset Management Company Ltd. He has also conducted project consultancy and feasibility studies for Tourism in Kerala and for both public and private sector institutions.
Dr. Rajendran is also a life member and a member of different reputed professional bodies.